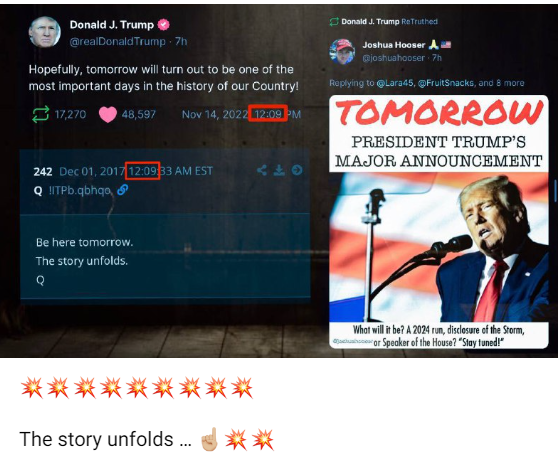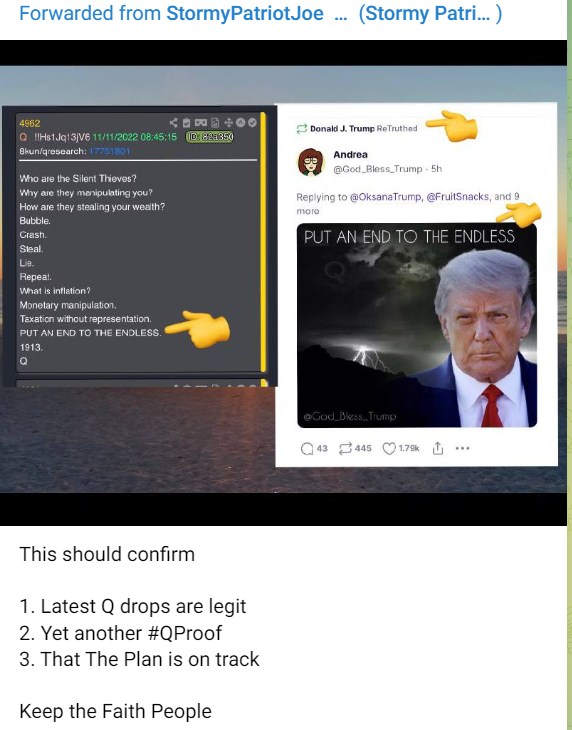 IF TRUMP BECAME SPEAKER OF THE HOUSE
Forwarded from The Justice League (Toria Brooke)
TWO YEARS AGO TODAY 🇺🇸🦅 We sat in front of our televisions and wept for an election which we knew was unlawfully stolen from the American people.
While seemingly unconventional, the following theory is legal. The following is a theory from Ivan Raiklin on How Trump Could Become Speaker of the House and Impeach Biden:
The Steps Would Include:
1. Full exoneration.
2. Exposing everyone who conducted illegal activity against Trump
3. Reinstatement of Trump which would require, at minimum: Arizona Mark Finchem , Michigan Christina Caramo, and Pennsylvania Doug Mastriano decertifying their 2020 electors via their respective Secretaries of State appointed by Governors.
The Impeachment Managers:
MTG
Matt Gaetz
Joe Kent
Paul Gosar
How It Would Work:
1. When Speaker Trump is elected on January 3, 2023, he gets immediate immunity from the Department of Justice, FBI, raids, lawsuits, etc.
2. Trump appoints his Sergeant at Arms.
3. His Sergeant at Arms releases all 14,000 hours of January 6, 2021 tape to get the real story out and all communications at the Capitol and does criminal referrals on ANTIFA and BLM members who have yet to be arrested, and reconsider all peaceful/nonviolent attendees.
4. Impeachment hoax nullification hearings begin. During those hearings across all 30 committees that Trump is now the Speaker of, there would be 24/7 uncensored televised broadcasting on all CSPANS 1, 2, and 3, to expose the mainstream media, Big Tech, and the last 3 administrations (Bush, Obama, Biden, and Deep State crew) of all their illegal activities, and how the fake impeachment hoax occurred, all the way back to Crossfire Hurricane.
5. Afterward, the House votes to nullify Trump Impeachment Hoax 1. And then the House votes to expel impeachment managers who were involved in Impeachment Hoax 1.
6. Nullify Impeachment Hoax 2. Get all players who were involved or expelled out of Congress.
7. Introduce Articles of impeachment against Biden, which would include, at least: (1 ) Crossfire Hurricane (2) Unmasking General Flynn (3) Afghanistan withdrawal
8. Garrett Ziegler testifies on the Hunter Biden laptop.
9. The 60 former Intelligence officers who claim the Hunter laptop was Russian disinformation would testify as witnesses. Give them 6 hours and if they don't show up we'll give them the Bannon treatment.https://t.me/freedomforcebattalion/30384