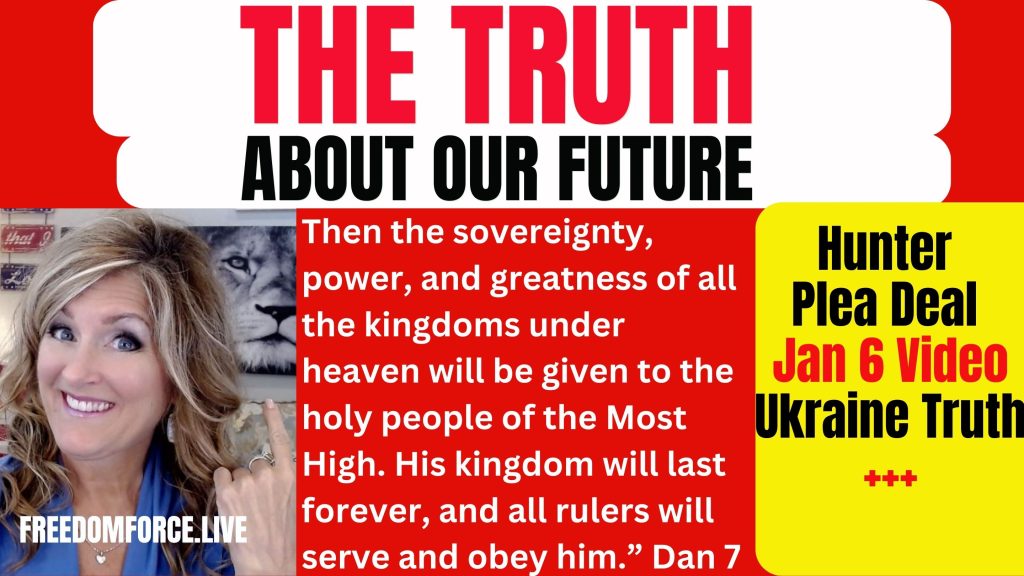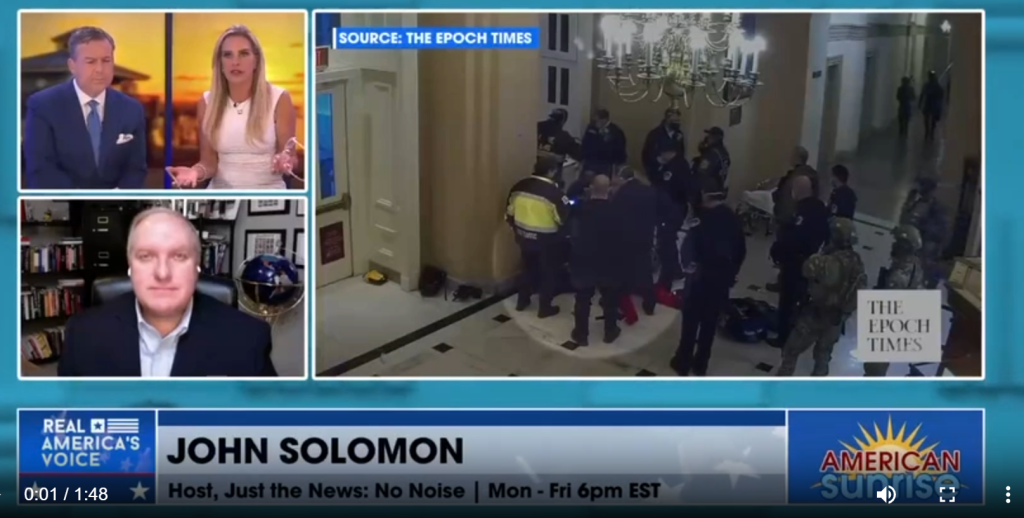 NEWS https://www.revolver.news/2023/07/this-trump-ad-put-the-fear-of-god-into-frank-luntz/
This Trump ad put the fear of God into Frank Luntz…
( ago)
MAGA is fighting back against the mob and so are we… but we need your help. Join our growing army and click here to subscribe to Revolver. Or give the gift of Revolver—simply select the annual subscription and select "This is a gift" on the next page. If you want to give extra during this critical time, you can make a one-time or recurring monthly donation — whether it's $1 or $1,000, every bit goes towards the battle to save our great nation.
---
Disgraced survey-taker Frank Luntz was recently shaken by what he deems the most terrifying political ad of the century. That might be a slight exaggeration, but not by much. Luntz, notorious for his wildly incorrect 2016 prediction, took to Twitter to share the clip.
This is the most alarming political ad I've seen this year.

I encourage you to give me your reaction. pic.twitter.com/k2rmNHfhxT

— Frank Luntz (@FrankLuntz) July 25, 2023
UPDATE: Lunt deleted his Tweet. The video that put the fear of God into Luntz can be seen here:
Here's Luntz's famous prediction:
The left-wing media is reporting on the clip and dutifully calling it "alarming" as well. Everyone marches in lockstep, don't they?
What Frank watched isn't an official political ad; it's instead a grassroots video made by a popular pro-Trump podcaster who goes by the name "Dilley."
Conservative pollster Frank Luntz on Tuesday shared a disturbing digital campaign spot to Twitter's rebranded X that alleges a vast conspiracy orchestrated by "the deep state" to hoodwink the American people. The one-hundred-ten-second video — which concludes by crediting the "Dilley Meme Team" and former President Donald Trump's "online war machine" — contains sinister male-voiced narration declaring that most significant events and major domestic issues in recent memory were lies.

"This is the most alarming political ad I've seen this year," wrote Luntz, who urged users to post their reactions.

The project's ten proclamations are virtually indistinguishable from indicted criminal defendant Trump's grievance-saturated attempt to return to the White House: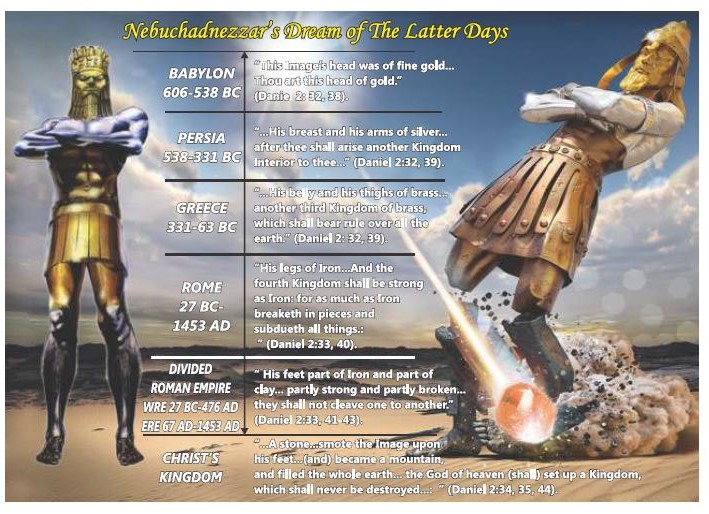 Daniel 2
Nebuchadnezzar's Dream
2 One night during the second year of his reign,[a] Nebuchadnezzar had such disturbing dreams that he couldn't sleep. 2 He called in his magicians, enchanters, sorcerers, and astrologers,[b] and he demanded that they tell him what he had dreamed. As they stood before the king, 3 he said, "I have had a dream that deeply troubles me, and I must know what it means."
4 Then the astrologers answered the king in Aramaic,[c] "Long live the king! Tell us the dream, and we will tell you what it means."
5 But the king said to the astrologers, "I am serious about this. If you don't tell me what my dream was and what it means, you will be torn limb from limb, and your houses will be turned into heaps of rubble! 6 But if you tell me what I dreamed and what the dream means, I will give you many wonderful gifts and honors. Just tell me the dream and what it means!"
7 They said again, "Please, Your Majesty. Tell us the dream, and we will tell you what it means."
8 The king replied, "I know what you are doing! You're stalling for time because you know I am serious when I say, 9 'If you don't tell me the dream, you are doomed.' So you have conspired to tell me lies, hoping I will change my mind. But tell me the dream, and then I'll know that you can tell me what it means."
10 The astrologers replied to the king, "No one on earth can tell the king his dream! And no king, however great and powerful, has ever asked such a thing of any magician, enchanter, or astrologer! 11 The king's demand is impossible. No one except the gods can tell you your dream, and they do not live here among people."
12 The king was furious when he heard this, and he ordered that all the wise men of Babylon be executed. 13 And because of the king's decree, men were sent to find and kill Daniel and his friends.
14 When Arioch, the commander of the king's guard, came to kill them, Daniel handled the situation with wisdom and discretion. 15 He asked Arioch, "Why has the king issued such a harsh decree?" So Arioch told him all that had happened. 16 Daniel went at once to see the king and requested more time to tell the king what the dream meant.
17 Then Daniel went home and told his friends Hananiah, Mishael, and Azariah what had happened. 18 He urged them to ask the God of heaven to show them his mercy by telling them the secret, so they would not be executed along with the other wise men of Babylon. 19 That night the secret was revealed to Daniel in a vision. Then Daniel praised the God of heaven. 20 He said,
"Praise the name of God forever and ever,
for he has all wisdom and power.
21 He controls the course of world events;
he removes kings and sets up other kings.
He gives wisdom to the wise
and knowledge to the scholars.
22 He reveals deep and mysterious things
and knows what lies hidden in darkness,
though he is surrounded by light.
23 I thank and praise you, God of my ancestors,
for you have given me wisdom and strength.
You have told me what we asked of you
and revealed to us what the king demanded."
Daniel Interprets the Dream
24 Then Daniel went in to see Arioch, whom the king had ordered to execute the wise men of Babylon. Daniel said to him, "Don't kill the wise men. Take me to the king, and I will tell him the meaning of his dream."
25 Arioch quickly took Daniel to the king and said, "I have found one of the captives from Judah who will tell the king the meaning of his dream!"
26 The king said to Daniel (also known as Belteshazzar), "Is this true? Can you tell me what my dream was and what it means?"
27 Daniel replied, "There are no wise men, enchanters, magicians, or fortune-tellers who can reveal the king's secret. 28 But there is a God in heaven who reveals secrets, and he has shown King Nebuchadnezzar what will happen in the future. Now I will tell you your dream and the visions you saw as you lay on your bed.
29 "While Your Majesty was sleeping, you dreamed about coming events. He who reveals secrets has shown you what is going to happen. 30 And it is not because I am wiser than anyone else that I know the secret of your dream, but because God wants you to understand what was in your heart.
31 "In your vision, Your Majesty, you saw standing before you a huge, shining statue of a man. It was a frightening sight. 32 The head of the statue was made of fine gold. Its chest and arms were silver, its belly and thighs were bronze, 33 its legs were iron, and its feet were a combination of iron and baked clay. 34 As you watched, a rock was cut from a mountain,[d] but not by human hands. It struck the feet of iron and clay, smashing them to bits. 35 The whole statue was crushed into small pieces of iron, clay, bronze, silver, and gold. Then the wind blew them away without a trace, like chaff on a threshing floor. But the rock that knocked the statue down became a great mountain that covered the whole earth.
36 "That was the dream. Now we will tell the king what it means. 37 Your Majesty, you are the greatest of kings. The God of heaven has given you sovereignty, power, strength, and honor. 38 He has made you the ruler over all the inhabited world and has put even the wild animals and birds under your control. You are the head of gold.
39 "But after your kingdom comes to an end, another kingdom, inferior to yours, will rise to take your place. After that kingdom has fallen, yet a third kingdom, represented by bronze, will rise to rule the world. 40 Following that kingdom, there will be a fourth one, as strong as iron. That kingdom will smash and crush all previous empires, just as iron smashes and crushes everything it strikes. 41 The feet and toes you saw were a combination of iron and baked clay, showing that this kingdom will be divided. Like iron mixed with clay, it will have some of the strength of iron. 42 But while some parts of it will be as strong as iron, other parts will be as weak as clay. 43 This mixture of iron and clay also shows that these kingdoms will try to strengthen themselves by forming alliances with each other through intermarriage. But they will not hold together, just as iron and clay do not mix.
44 "During the reigns of those kings, the God of heaven will set up a kingdom that will never be destroyed or conquered. It will crush all these kingdoms into nothingness, and it will stand forever. 45 That is the meaning of the rock cut from the mountain, though not by human hands, that crushed to pieces the statue of iron, bronze, clay, silver, and gold. The great God was showing the king what will happen in the future. The dream is true, and its meaning is certain."
Nebuchadnezzar Rewards Daniel
46 Then King Nebuchadnezzar threw himself down before Daniel and worshiped him, and he commanded his people to offer sacrifices and burn sweet incense before him. 47 The king said to Daniel, "Truly, your God is the greatest of gods, the Lord over kings, a revealer of mysteries, for you have been able to reveal this secret."
48 Then the king appointed Daniel to a high position and gave him many valuable gifts. He made Daniel ruler over the whole province of Babylon, as well as chief over all his wise men. 49 At Daniel's request, the king appointed Shadrach, Meshach, and Abednego to be in charge of all the affairs of the province of Babylon, while Daniel remained in the king's court.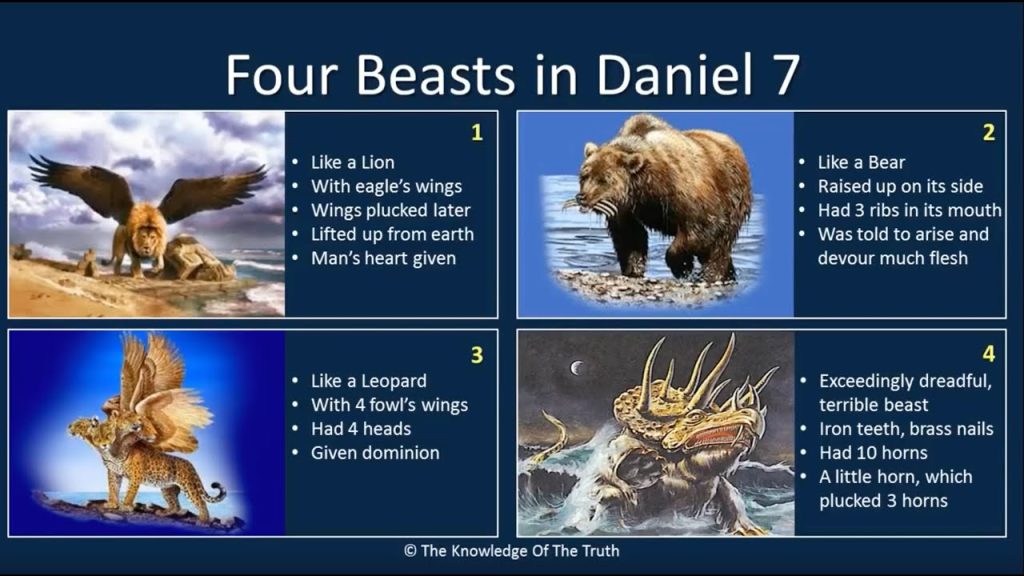 Daniel 7
Daniel's Vision of Four Beasts
7 Earlier, during the first year of King Belshazzar's reign in Babylon,[a] Daniel had a dream and saw visions as he lay in his bed. He wrote down the dream, and this is what he saw.
2 In my vision that night, I, Daniel, saw a great storm churning the surface of a great sea, with strong winds blowing from every direction. 3 Then four huge beasts came up out of the water, each different from the others.
4 The first beast was like a lion with eagles' wings. As I watched, its wings were pulled off, and it was left standing with its two hind feet on the ground, like a human being. And it was given a human mind.
5 Then I saw a second beast, and it looked like a bear. It was rearing up on one side, and it had three ribs in its mouth between its teeth. And I heard a voice saying to it, "Get up! Devour the flesh of many people!"
6 Then the third of these strange beasts appeared, and it looked like a leopard. It had four bird's wings on its back, and it had four heads. Great authority was given to this beast.
7 Then in my vision that night, I saw a fourth beast—terrifying, dreadful, and very strong. It devoured and crushed its victims with huge iron teeth and trampled their remains beneath its feet. It was different from any of the other beasts, and it had ten horns.
8 As I was looking at the horns, suddenly another small horn appeared among them. Three of the first horns were torn out by the roots to make room for it. This little horn had eyes like human eyes and a mouth that was boasting arrogantly.
9 I watched as thrones were put in place
and the Ancient One[b] sat down to judge.
His clothing was as white as snow,
his hair like purest wool.
He sat on a fiery throne
with wheels of blazing fire,
10 and a river of fire was pouring out,
flowing from his presence.
Millions of angels ministered to him;
many millions stood to attend him.
Then the court began its session,
and the books were opened.
11 I continued to watch because I could hear the little horn's boastful speech. I kept watching until the fourth beast was killed and its body was destroyed by fire. 12 The other three beasts had their authority taken from them, but they were allowed to live a while longer.[c]
13 As my vision continued that night, I saw someone like a son of man[d] coming with the clouds of heaven. He approached the Ancient One and was led into his presence. 14 He was given authority, honor, and sovereignty over all the nations of the world, so that people of every race and nation and language would obey him. His rule is eternal—it will never end. His kingdom will never be destroyed.
The Vision Is Explained
15 I, Daniel, was troubled by all I had seen, and my visions terrified me. 16 So I approached one of those standing beside the throne and asked him what it all meant. He explained it to me like this: 17 "These four huge beasts represent four kingdoms that will arise from the earth. 18 But in the end, the holy people of the Most High will be given the kingdom, and they will rule forever and ever."
19 Then I wanted to know the true meaning of the fourth beast, the one so different from the others and so terrifying. It had devoured and crushed its victims with iron teeth and bronze claws, trampling their remains beneath its feet. 20 I also asked about the ten horns on the fourth beast's head and the little horn that came up afterward and destroyed three of the other horns. This horn had seemed greater than the others, and it had human eyes and a mouth that was boasting arrogantly. 21 As I watched, this horn was waging war against God's holy people and was defeating them, 22 until the Ancient One—the Most High—came and judged in favor of his holy people. Then the time arrived for the holy people to take over the kingdom.
23 Then he said to me, "This fourth beast is the fourth world power that will rule the earth. It will be different from all the others. It will devour the whole world, trampling and crushing everything in its path. 24 Its ten horns are ten kings who will rule that empire. Then another king will arise, different from the other ten, who will subdue three of them. 25 He will defy the Most High and oppress the holy people of the Most High. He will try to change their sacred festivals and laws, and they will be placed under his control for a time, times, and half a time.
26 "But then the court will pass judgment, and all his power will be taken away and completely destroyed. 27 Then the sovereignty, power, and greatness of all the kingdoms under heaven will be given to the holy people of the Most High. His kingdom will last forever, and all rulers will serve and obey him."
28 That was the end of the vision. I, Daniel, was terrified by my thoughts and my face was pale with fear, but I kept these things to myself.